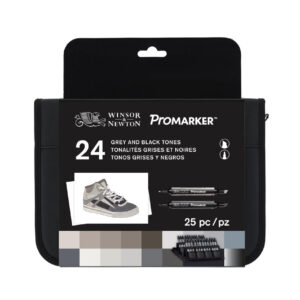 Create tonal visuals and greyscale art, or add shade and definition when working in colour with this comprehensive collection.
This set includes:
Warm Grey 1, Warm Grey 2, Warm Grey 3, Warm Grey 4, Warm Grey 5: a hint of brown gives these greys a richer feel
Ice Grey 1, Ice Grey 2, Ice Grey 3, Ice Grey 4, Ice Grey 5: the frostiest greys, with the lighter shades often used to convey snow or the palest fur colours.
2 x Cool Grey 1, 2 x Cool Grey 2, 2 x Cool Grey 3, 2 x Cool Grey 4, 2 x Cool Grey 5: the most neutral of greys, versatile and good for highlighting or creating shade and shadows.
2 x Black: a staple colour for your marker collection, whether used as an outliner or worked into your composition.
2 x Blender: apply it as an under-layer, to keep ink wetter and more malleable for longer, or on wet ink to create subtle graduations of colour.