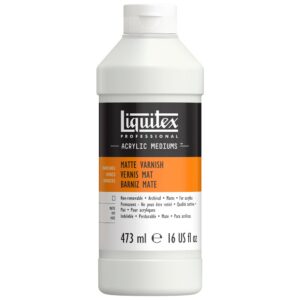 Seal your acrylic work with a archival quality, transparent, matte acrylic layer which is breathable, permanent and protects against UV damage.
100% acrylic polymer varnish adds a matte sheen, protects and resists dirt retention
Dries clear to a flexible, non-tacky, hard surface
Increases brightness and color saturation
Adjusts and unifies surface sheen
Improves surface durability - ideal when shipping or exhibiting
Protects colors from UV light damage
Resists discoloration - yellowing and fogging - caused by humidity, heat and UV
Depending on the substrate, it allows surface moisture to pass through and breathe
Allows for easy cleaning without fear of damaging the acrylic paint film
Has excellent leveling properties - will not hold brush marks
Semi-opaque when wet, transparent when dry
Use on flexible or rigid supports
Ideal for complete coverage of heavy textures and vertical applications
Designed for interior and exterior use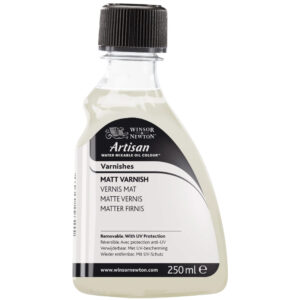 This UV resistant gloss varnish provides protection for paintings achieved with Artisan Colour and is removable with Artisan Varnish Remover.
Non-yellowing.
Painting must be completely dry (6-12 months).
Use only as a final varnish.
Shake well before use.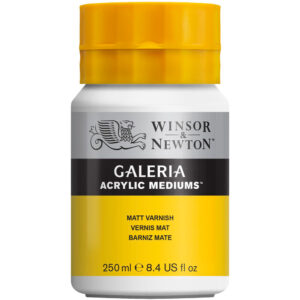 A unique removable matt varnish which may be mixed with Galeria Gloss Varnish to vary the final finish.