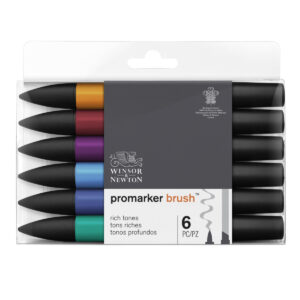 Curated to represent the most sumptuous shades of the Promarker Brush colour spectrum, the Rich Tones set includes Amber, Firebrick, Plum, Azure, Egyptian Blue and Ocean Teal. Set Contents 6 x Promarker Brush: Contains 6 x Markers: Amber • Firebrick • Plum • Cadet Blue • Egyptian Blue and Ocean Teal
From Almond to Burnt Sienna, the Promarker Brush Skin Tone set allows you to explore a plethora of skin tones. Also included are Dusky Pink, Blush, Praline and Saddle Brown. To vary the shades, each colour can also be used with the colourless Blender, or with other shades in the wider Promarker Brush spectrum. As with all Promarker Brush sets, our 6 Skin Tones were specifically curated to complement each other and broaden your colour collection.
Set Contents
6 x Promarker Brush: Contains 6 x Markers: Dusky Pink • Blush • Praline • Almond • Burnt Sienna and Saddle Brown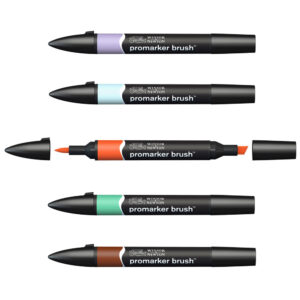 Amber

Bright Orange

Carmine

Champagne

Cinnamon

Cloud Blue

Cocoa

Cool Grey 1

Cool Grey 2

Cool Grey 3

Cool Grey 4

Cool Grey 5

Cyan

Egyptian Blue

Forest Green

Grass

Henna

Indigo Blue

Lemon

Lush Green

Maroon

Ocean Teal

Pebble Blue

Plum

Rose Pink

Ruby

Saddle Brown

Sky Blue

Black
Promarker Brush offers 72 translucent, alcohol-based inks that can be layered and blended together to build beautiful effects and depth to your work.