Explore the unrivalled transparency of our Vitrail Glass Paints, designed for painting on glass. Discover all 22 bright, non-fading colours, perfect for application on smooth surfaces.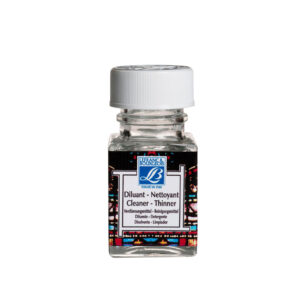 Dilute your Vitrail and Ceramic Paints, while cleaning your supports and equipment with our Vitrail Cleanser Thinner. Made for Vitrail and Ceramic paints, this cleanser and thinner helps you achieve the perfect consistency. A versatile product, use it to ensure that your supports are completely clean before painting and to clean your tools after use.
The Cern / Outliner creates contours in relief on all surfaces previously degreased with alcohol. Combined with Vitrail colours, the Cern / Outliner imitates the outline of old stained glass windows. Allow the product to dry for 12 hours before applying the Vitrail paint.