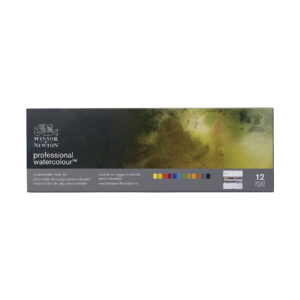 Winsor and Newton Professional Watercolour range uses only the world's finest pigments
to ensure you're guaranteed
 brilliance, 
permanence,
 and strength of colour
 in your work
. With 
79
 single pigment colours, we offer the widest range of modern and traditional pigments.
Discover 12 of our finest Professional Watercolours with unrivalled performance. All in a travel tin with space for 12 more colours for you to customise your palette. The travel tin has an integral palette in the lid, a hinged flap for mixing and tinting, a thumb ring in the base, and a space for a brush.